St. Lawrence Club, CFU Lodge 13
---
Home - Calendar - Contacts - Pictures - History - Links - Jr Tammies - Sr Tammies - Facebook - Twitter
---
St. Lawrence Club & Croatian Merchandise
Now you can get great looking, original designed, Croatian-themed merchandise, AND earn up to 50% commission for your group, club or organization, just by shopping!

HOW IT WORKS... There are 2 ways to purchase Croatian merchandise and help your club...

The first way is to pick up a product brochure and order form from a club officer or take one that is displayed at your club location. Choose from 12 original Croatian themed designs, all available on 16 different product items. Enter your selection on the easy-to-use Order Form and mail it with your payment.

The second is by shopping online. Simply click on the GO SHOPPING link below and browse the may Croatina design and items they are available on. Make your selection and follow the easy checkout instruction and your items will be shipped directly to you within 3-5 days. Your organization will be credited and paid up to 50% commission on the otal purchase, it's that simple!

While there, alos browse the many other desin categories and items. The more you buy, the more $$$ your club will earn, and with the holidays upon us, it's a perfect time ot do some early shopping and help your club as well!

So don't delay, GO SHOPPING today!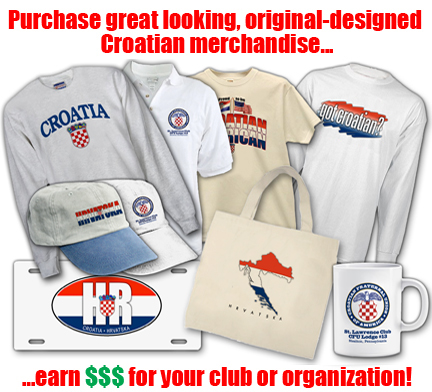 ---
© 2013 www.stlawrence13.com - All Rights Reserved - Last Updated: March 23, 2013